About Us
Welcome to Lovely Hair Impex, a pioneering company in Indian Human Hair industry which is a reliable source for buying high quality Human Hair & its products. Established in the year 2001, with a glorifying history of 19 years, we have attained a globally recognized position of manufacturer and Exporter for the consistent quality of our products and swift delivery. Also, we have mustered vast clientele across 56 countries in the whole world.

Headquartered at Kattupakkam, Chennai (India), we collect beautiful virgin human hair from the temples where the traditional practice of tonsuring takes place. These virgin human hair are brought in our modern factory where they are carefully sorted and graded by the seasoned craftsmen according to their texture, length and color. After that, these hair undergone through gentle cleaning procedures on which our experts make use of shampoo and conditioner that are developed by our R&D experts. Once the hair is properly processed & ready, they are sent to the next department to be craft into different products like wigs and hair extensions. Our team of experienced quality controllers carefully examine our products like Indian Curly Hair, Curly Hair Weft, Ladies Blonde Hair Extensions, Black Hair Closure, Micro Weft Hair, etc. at each step of production right from the hair reaches to the facility till the packaging to make sure that only best product is made and delivered to national & international clients.

Fulfilling clients business requirements and attaining their maximum satisfaction is the ultimate goal of our company which has led to consistent innovation and growth. Today, we are happy to announce that we share long lasting relations with our clients and known as a trusted global destination for high standard Indian human hair.

Business Plan
The sole aim of almost every company is to take its business to the topmost market position and for that the first and foremost plan of action should be to have clear business plans, which would eventually help it in moving forward. Similarly, in our company, we are backed by a team of highly trained experts. We have devised the most well-defined set of business plans according to which our experts work. Following are some of the major elements of our business plan:


We carry out steadfast market analysis to stay updated with the latest trends.
We profoundly understand the customers requirements and provide them products accordingly.
We ensure modern working methods in our company.
We make sure every order is safely and timely delivered to the clients.

Our Experience
The long years of experience of a company helps in determining its stand in the market. For over 19 fruitful years, we, Lovely Hair Impex have made our way to a strong position in market. This has been possible due to our strong knowledge of the industry according to which we design our products which includes Long Straight Human Hair, Black Hair Closure, Indian Curly Hair, Ladies Blonde Hair Extensions, Micro Weft Hair, etc. All of our products have always been popular among many Indian customers, which has enabled us to get hold of the market. Yet, our goal is to increase their reach even more in the future and secure global patrons from UK, USA, Germany, Italy, and England.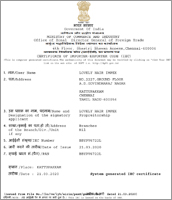 Read More